Features Of The 2019 Subaru WRX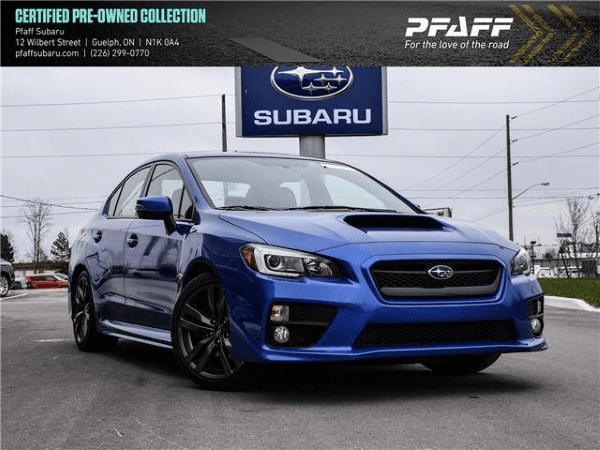 Features Of The 2019 Subaru WRX
Considering there is a long list of performance sedans on the automotive market today, how can you find a sporty, stunning, and performance-oriented car that works with your driving style and needs? Guelph residents can easily do so with a visit to Pfaff Subaru, as we offer the local area the best from this reliable brand! Please keep reading as we discuss the features of the 2019 Subaru WRX below, and why it's a perfect fit for your next sedan.
Subaru Symmetrical Full-Time AWD
To achieve optimum response and handling, in all kinds of driving conditions, the WRX comes equipped with the Subaru Symmetrical Full-Time All-Wheel-Drive system. This Subaru model is available with a manual transmission, as well as a Sport Sport Lineatronic™ automatic transmission, delivering sportier handling and performance, and high fuel-efficiency, for total control on the road ahead.
Seats That Support
Hop in the driver's seat and take off down the road feeling calm, comfortable, and collected in performance-designed seats of the WRX, no matter the length of journey you're on. Cradling support is ensured, resulting in sheer driving pleasure. Opt for the WRX Sport trim and receive 10-way power driver's seat with added lumbar support, outfitting them in a choice of premium cloth, full leather, or leather accents with Ultrasuede inserts.
LED Lighting
Looking for headlights that illuminate every corner, divet, and obstacle, on the road ahead? This Subaru is fully prepared to tackle night driving at its finest, as this car features projector beams and parabolic reflectors for optimal light direction and visibility. Upgrade to the LED Steering Responsive Headlights when you take control of the WRX Sport trim, and brighten your horizon.
The Pfaff Fine Print
The Pfaff Fine Print may not be a feature of the WRX, but it sure is a shining feature of our dealership's business approach! We will always extend our best, and lowest, price first, so there is no need for time-consuming back and forth. There are no pre-loaded or admin fees attached to the bottom line- everything we offer is completely transparent! Work with one of our expert representatives every step of the way to ensure the car-buying process works for you! On top of all these fantastic benefits of working with us, we will also extend an offer to buy your current car at a fair market price!
With the features of the 2019 Subaru WRX, and our business model, fresh in your mind, now is the time to visit us at Pfaff Subaru. Residents can conveniently find our dealership at 12 Wilbert Street, in the Guelph Auto Mall.
Please click here to find out our contact information online, and fill out our contact form for further assistance, or schedule a test drive of your favoured WRX trim today!