Test drive a 2017 Subaru Outback near Kitchener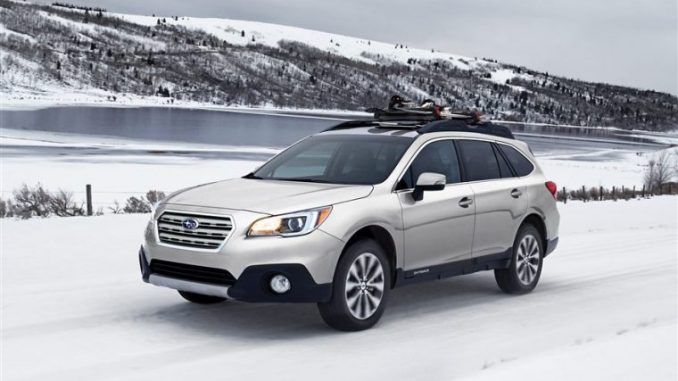 Test drive a 2017 Subaru Outback near Kitchener
Delivering a nice mix of off-road capability and tech-savvy sophistication, the 2017 Subaru Outback is a solid choice for people who want a little bit of everything. Although Subaru held off on making major changes to the Outback for 2017, the latest incarnation of this popular five-passenger crossover SUV still manages to feel fresh and new. Kitchener customers looking for a new pre-owned Subaru crossover should consider a 2017 Subaru Outback today. At Pfaff Subaru in Guelph, you can find a massive selection of new and pre-owned vehicles that are waiting for you to take out for a test drive. Test drive a 2017 Subaru Outback near Kitchener buy scheduling yours on our Pfaff Subaru website. In this blog, we take a look at some of the features of a 2017 Subaru Outback. 
Click here to begin browsing through our pre-owned Subaru inventory at Pfaff Subaru in Guelph.
What was new for the 2017 Subaru Outback?
Subaru didn't go back to the drawing board with the 2017 Subaru Outback, but it wasn't necessary. However, the manufacturer slipped in a few updates, including an entirely new top-level Touring trim level that includes special exterior and interior trim. The popular optional Eyesight Driver Assist Technology package was improved to include automatic high beam control and reverse automatic braking. Additionally, alloy wheels were standard on all trims, so you got a little more by investing in a 2017 Outback.
Exceptional off-road capabilities
Most people who buy SUVs have little or no intention of taking them off roads. The newest Outback is designed for people who actually do. While there are certainly better off-road vehicles out there, this crossover is loaded with features that make it handle incredibly well off the pavement. All-wheel drive is combined with technologies like hill-descent assist to make this a nimble off-road choice.
Plenty of cargo space 
In addition to boasting plenty of room for equipment, luggage, and other gear, the 2017 Subaru Outback offers ample amounts of space for passengers. Two grown adults can sit comfortably in the back, and they will even be comfortable if a teen or child sat back there too.
Excellent visibility
With its high ground clearance of 8.7 inches, large windows, and other features, the 2017 Outback is virtually devoid of blind spots. On city streets and off roads, this comes very much in handy and enhances the overall safety of this popular crossover SUV. 
Why buy from Pfaff?
The Pfaff difference is all about selling you a car the way you want to buy it. We're no longer operating with old-school sales tactics where different customers get different deals.
With upfront pricing, you won't have to negotiate. We won't add any additional fees to your deal. If you have a vehicle to trade, we will give you a written offer with no obligation to buy any of ours. And you can't buy the wrong car with our return and exchange policy.
Visit us today to experience the Pfaff difference.
A test drive in the 2017 Subaru Outback near Kitchener is all that's needed in order to experience its full capabilities. You can schedule your test drive on our Pfaff Subaru website today! Click here to find our contact information, schedule a test drive, or to speak with a Pfaff Subaru representative.